Oct 1, 2019
Mahans honored as Van Buren County Farm Family of the Year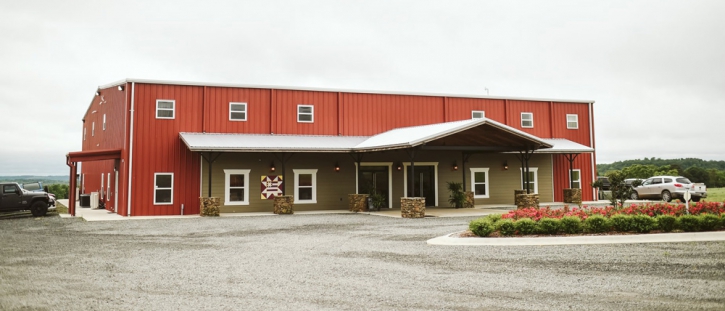 Well, sure, it's a farm. And like any farm it begins with a plan. The 2019 Farm Family of the Year, Alan and Angela Mahan, had a plan.
"We weren't going to buy any more grocery store meat," Alan said.
What came from that decision set a stage, as it were, and prompted growth while taking a new tack on doing things.
Alan, a South Side 1986 grad, had started out in farming, like so many people at what was at one time a dairy farm in Bee Branch. After that, he became a contractor. He and Angela, from Mississippi County and the row-crop tradition, married in 2013. She pitched in at the construction company where Alan worked, and, of course, now at the farm.
The construction company is closed now and the emphasis is on the farm. And that began with the plan: No more grocery store meat. "We decided we need to feed our families better," Alan said. It started out small with the couple renting land, but that was not satisfactory. "[Rented ground] is like dating a high-end model," Alan said, "it ends in heartache."
They made their dream come true with the purchase of Rabbit Ridge, 240 acres in Van Buren County, where they raise Angus crossbred cattle, Duroc crossbred hogs and Cornish crossbred chickens.
They got started selling beef. They soon added hogs, selling halves and wholes from freezers. And here's where the idea came — the result of thinking outside of the box (they both nodded here). They were raising grass and grass-eating livestock. It was time to take a different look at things, to get outside of the tradition.
Things had been done a certain way, an expected way, for years, growing for a commodity market. Alan said they looked at it differently. Rather than chicken coops and hog pens, this was a chance to look at the ways these things had been done in the past, in what turns out to be a less expensive and cleaner means of production.
They added chickens, 1,000 in year one and now up to 20,000 this year, with plans for 100,000 soon.
And the production from their farm has been well received by restaurants and meat processor. "Farm-to-table" is a popular phrase these days, and the Mahans are part of that movement.
The plan, to double back, was to do things as it was done in a simpler time. Their goal was a more sustainable type of farming.
Alan, Angela by his side, explained that for a young person today, not born into the business, opening a farm is a multi-million dollar, hence unlikely, investment. His way of doing things, however, avoids a lot of the expense by eliminating the equipment needs of commodity meat production, as well as the typical large land holdings. It's a model, the Mahan's call it, to get young farmers in business.
The couple recently shared their plan and story during a visit to the farm. During the visit, we saw the farm's pasture and livestock, but what they really stress was their desire for people to be connected with what's going on. They want you to understand where they chicken sandwich comes from and all that goes into producing it.
That's part of the program. They have a large reception hall for hosting events, as well as weekly meals, where the seating is long-table family-style, a chance to get to know who you're eating with, and a chance to get to know where your food – in this case fresh and grass-fed – comes from. Farm tours are available.
Plans continue. They are working on growing their E-commerce site, rabbitridgefarm.com, and local retail business (busy enough where the interview had to wait while a customer stopped to pick up some steaks) including adding dairy products to the store offerings. More chickens and sheep are planned as well.
The weekly lunches remain popular and the occasional breakfast (home-ground grits) and dinners draw a crowd.
It's all part of the plan.
Alex Kienlen, Van Buren County Democrat