Apr 1, 2021
Congratulations on retirement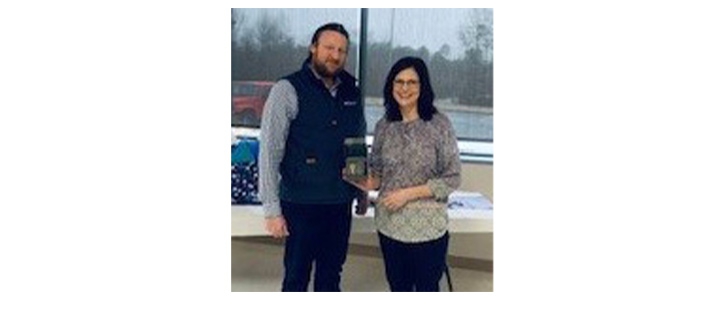 Family and friends gathered on February 26th to celebrate the career and retirement of Sherry Bettis. Sherry began her cooperative career on April 20, 1994 at South Central Electric Cooperative in Arkadelphia. She took the position of Manager of Finance and Accounting here at Petit Jean Electric on July 20, 2009 and has remained in that position until now.
Sherry came to the cooperative world from public accounting, back when many things were done by hand. Green lined accounting paper was a sign of the times and calculating everything on an adding machine was how it was done. She shared that the advancement of computer spreadsheets and more advance computerized accounting software has made the job easier and for sure more accurate and for that she is grateful. Over the span of her career she said that Accounting Standards as well as Tax laws have changed, some for the good and some were more challenging.
Something that most people may not realize is the impact that storms have on the accounting department. Sherry has seen more than her share of ice storms and tornados and she said although the work wasn't dangerous like it is for the lineman, a storm was truly a challenging adventure for the accountants. Sherry hopes that the accounting department never has to weather another storm but she is sure they will and they will know how to get the job done Sherry and her husband Alan plan to take the next chapter of their
lives with leisure. Working in her yard when the weather allows, visiting friends and family anddoing more volunteer work is on their list of things to do. She stated "it will be nice to get to serve more with my church family". And she also said that we at Petit Jean could always call her if a storm came through and we needed her to help take care of the linemen.
We appreciate Sherry's dedicated service to our cooperative and our membership and we wish Sherry the best in her next chapter of service.
IMAGE CAPTION: Michael Kirkland, left, with Sherry Bettis.