May 4, 2021
Petit Jean Fiber logo makes its debut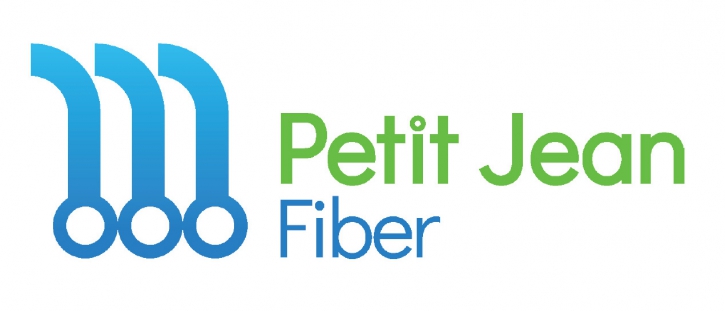 As make-ready engineering and construction kick off, the team at Petit Jean Electric Cooperative has been working hard behind the scenes to get our cooperative up and running with blazing-fast fiber-to-the-home broadband. The network will be operated by the co-op's wholly owned fiber subsidiary, Petit Jean Fiber.
Now it's time for the big reveal: The Petit Jean Fiber logo is here! The logo reflects the unique vision of the Petit Jean team to bring together the spirit of the co-op with the forward progress of the fiber entity. The Petit Jean Fiber logo features a waterfall icon composed of three fiber strands selected to symbolize the natural beauty of the service territory while echoing the purpose of the subsidiary: to deliver lightning-fast fiber Internet to members. The colors of the logo also draw from the natural landscape of the cooperative's service area with a blue gradient for the waterfall and an eye-catching green that stays true to Petit Jean Electric Cooperative's signature green logo.
We are very pleased with the final design of the Petit Jean Fiber logo. One of the first things that we are doing is making some limited-edition hats to show off and share with our members and employees. We are excited to see the logo become visible to our members within the communities that we serve — our membership will see our logo on the uniforms of our employees, in local publications, on billboards throughout the service territory and, most importantly, on the sides of the trucks that will soon be in your neighborhoods to prepare for the construction of our world-class network.
Our new logo showcases our commitment to providing value for our members by bridging the rural digital divide and providing a level of Internet service that exceeds what is available in most major cities. I am so proud to be working with an outstanding group of employees who are incredibly dedicated to service excellence each and every day. I would also like to thank the Petit Jean Electric Board of Directors for recognizing the need for improved Internet services in our area and their bold leadership for ultimately making the decision to build a world-class Internet that will improve the quality of life of our membership for generations to come.