Sep 5, 2023
Petit Jean Fiber reaches new milestone
We are thrilled to announce a significant milestone for Petit Jean Fiber, a leading provider of fiber internet services and a fiber subsidiary of Petit Jean Electric Cooperative. We have reached 3,000 subscribers, marking a remarkable achievement in our journey to bring high-speed connectivity to our members throughout rural Arkansas.
Petit Jean Fiber has been at the forefront of the fiber internet revolution, bridging the digital divide by offering reliable and lightning-fast internet connections to previously underserved areas. Petit Jean Fiber's commitment to delivering the best services, coupled with a dedication to customer satisfaction, has earned us a strong reputation among residents and businesses alike.
Reaching the 3,000-subscriber mark is a testament to the hard work and determination of the entire team at Petit Jean Fiber. From the initial installation of the fiber optic infrastructure to the ongoing support provided to subscribers, Petit Jean Fiber has consistently demonstrated our commitment to excellence.
"I am incredibly proud of the hard work our employees have put forth on behalf of our members to get the best high-speed internet services available in our area. It is a privilege to work for a cooperative where members, directors, management and employees work in concert to better our communities. We look forward to providing each and every one of our members with this amazing new internet service, and I encourage every member to sign up today!" said CEO/General Manager Michael Kirkland.
The impact of high-speed internet cannot be overstated. Access to fiber internet has transformed the way communities function, opening doors to educational resources, telecommuting opportunities, telemedicine and countless other possibilities. Petit Jean Fiber's unwavering efforts in expanding its network have made these opportunities a reality for thousands of subscribers, with the commitment to reach 100% of Petit Jean Electric Cooperative's members.
By investing in cutting-edge technology and partnering with local organizations, Petit Jean Fiber has managed to build a robust and reliable fiber optic network that rivals the connectivity options available in urban areas. This milestone is not only a cause for celebration but also a reminder of the transformative power of innovation and the importance of bridging the digital divide.
As Petit Jean Fiber continues to grow and expand its services, we remain committed to our core values of providing exceptional customer service, fostering community development and delivering the fastest and most reliable internet connections possible. With our dedicated team, strong infrastructure and the trust of our subscribers, Petit Jean Fiber is poised for even greater achievements in the future.
We want to thank our subscribers for their continued trust as we connect more and more subscribers to fiber-fast internet. Their success not only strengthens the communities they serve but also serves as an inspiration for other companies striving to make a difference in the world of connectivity.
Want to join the broadband movement along with our 3,000 subscribers? Visit our website at PetitJeanFiber.com or call us today to learn more!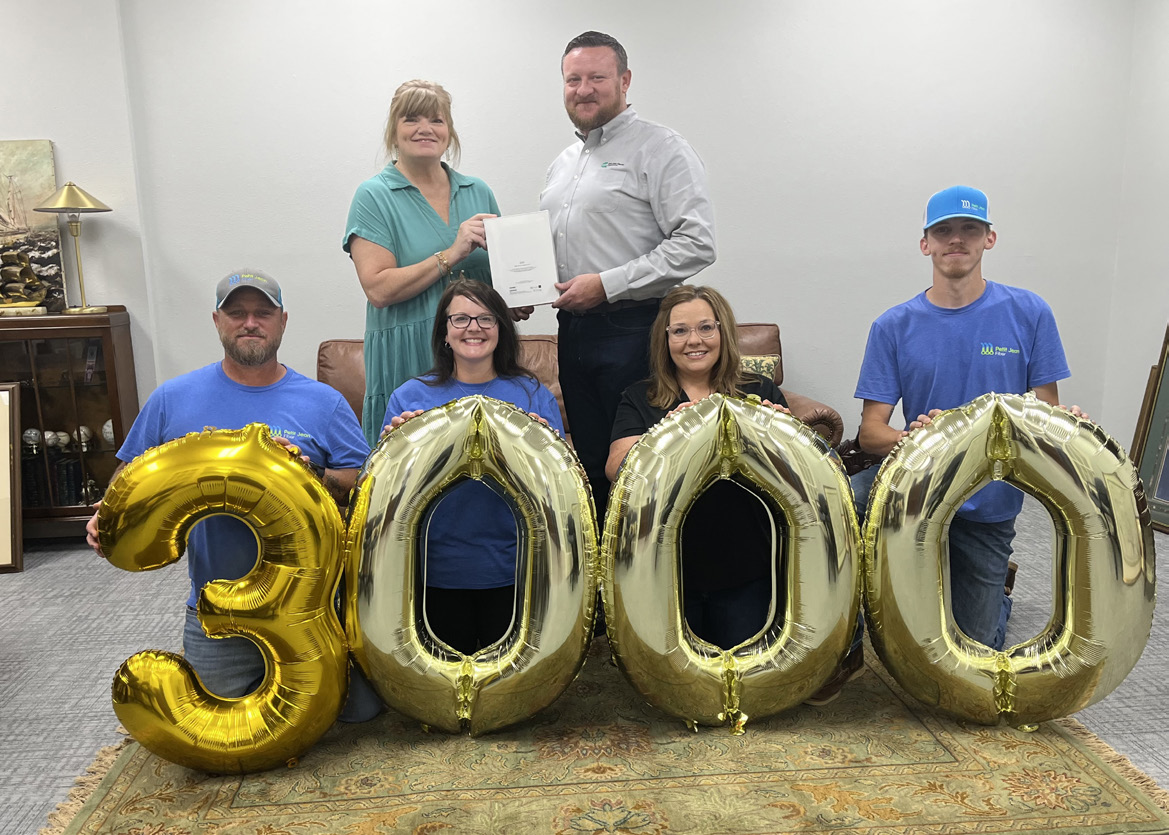 [Image: Petit Jean Fiber's 3,000th subscriber, Lacey Bradford of Shirley, receives an iPad from CEO/General Manager Michael Kirkland. Pictured (from left) on bottom row are Petit Jean Electric employees Kyle Allen, Angie Hutchins, Lea Ann Jones and Austin Smith.]